The First Wrinkle by Wendy Samford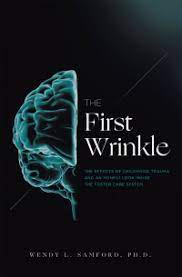 The First Wrinkle: The Effects of Childhood Trauma and an Honest Look Inside the Foster Care System
Listen to PatZi's Interview
I enjoyed speaking to Wendy L. Samford, PhD, about this fascinating book that explains the brain research that is being done to understand the effects of childhood trauma. From our very "First Wrinkle" — our first memory — we have created a lasting image in our brains. It will be locked in one our minds — that's why we need to understand how our actions impact a child forever.
Wendy's writing is compelling. She presents authentic stories from the lives of four people who have experienced childhood trauma. I enjoyed how she added depth to their stories by alternating each story with in depth interviews with people working to make the foster system work. Reading the story of foster parents, first responders, and volunteers, helps put in perspective the enormity of the problem and the work that needs to be done to improve the system.
There are many kind, loving, and brave men and women across the country who have stepped forward and given their time to make life a little better for those who need our help. The First Wrinkle celebrates them and those who have overcome trauma.
Abuse is called the hidden epidemic. In her brilliant analysis of the problem, Dr. Samford shines a much needed light on the problem and offers a challenge to all of us. It is a call to action — whether it is prayer or money or time — there is something that each of us can do.
If you purchase The First Wrinkle from this Amazon link, the small fee we receive will be donated to the "Rising Star" Award for talented new authors….
You can make a difference..
After you read Wendy's book I am sure you will want to do something to help the children who have gone though trauma — so in addition to prayer, you could join an organization that gives you an opportunity to give of your time…check out….