The Ayatollah Takedown by Matt Scott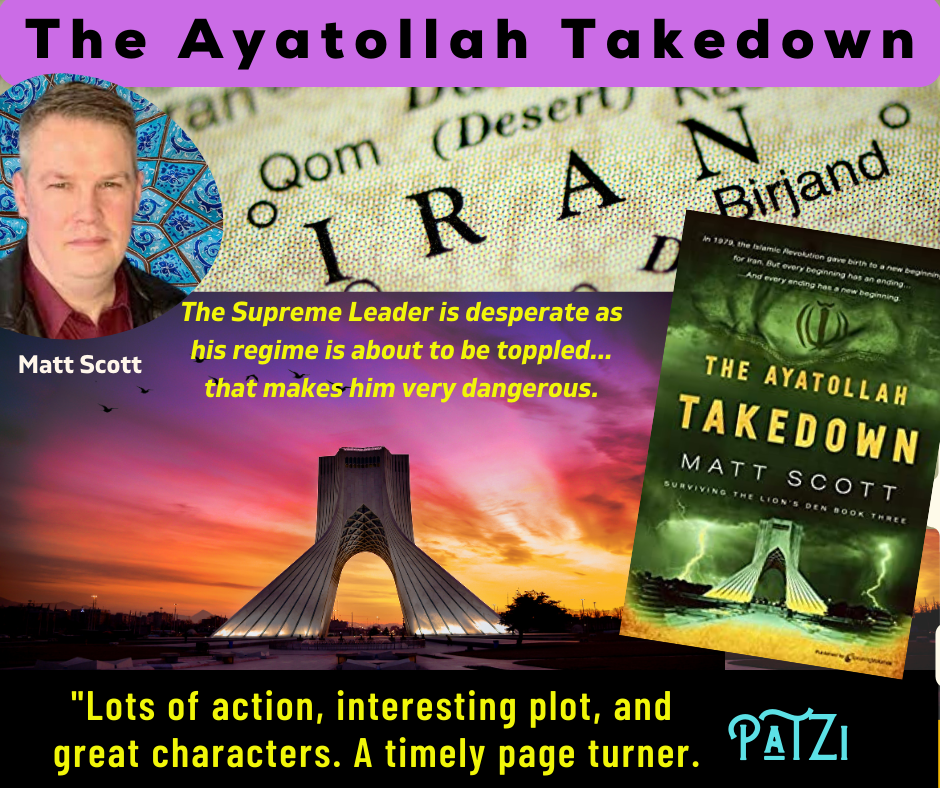 Book #3
Surviving the Lion's De
You can help Joy on Paper
by using the above link to purchase
this great book. We will receive a
tiny fee, which will be used to help
support recent guests who are
'rising star'
Indie authors. 
Visit Matt Scott's Website and sign up for his newsletter and give-away with new releases….
What a joy to get to talk about Iran with Matt Scott about The Ayatollah Takedown, Book #3 in his Surviving the Lion's Den series. 
Sometimes books come out at just the right time and with things heating up in Iran and the rest of the Middle East, They Ayatollah's Takedown, will give readers a look at the current situation.
Matt has woven a story around four main characters, two CIA operatives and two local Iranians who are willing to risk their lives to overthrow the regime of Ayatollah Marzban Shir-Del. They aren't the first to try to bring Iran out of the hands of the fanatics who took over Iran in 1979. This time might be different–but then again, nothing is ever easy when you are dealing with the Revolutionary Guard and the wily leaders of Iran.
Enjoy my interview with Matt–I talked about some of my own adventures there and Matt shared insights into how he developed a storyline that continues the excitement of From the Lions Den and The Iranian Deception (2022).
ABOUT THE BOOK
In 1979, the Islamic Revolution gave birth to a new beginning for Iran. But every beginning has an ending…
…and every ending has a new beginning.
The Supreme Leader of Iran, is desperate. After discovering that Iran started a war between India and Pakistan for national gain, the international community places the toughest economic sanctions on them to date. Thinking that an oil deal with China will shield them from their enemies, he turns to General Secretary Zhang Xu for assistance–but dealing with the Chinese always has its pitfalls.
Meanwhile the chief commander of the Revolutionary Guard is conspiring with CIA operatives Ben Thrasher and Beth Jenkins to overthrow him. Non-stop action and intricate plotting keeps this story a thrilling and timely book for these troubled times.
 (Get the book to find more…and maybe one day you will be able to take a trip to Iran for fun…)
Listen to PatZi's interview with Matt Scott