Our Lying Kin by Claudia Hagadus Long
What fun to talk to Claudia! She's just my kind of person–enthusiastic and a joy to talk to about her books and life in general. It was like talking to an old friend, who just happens to have a bunch of wild characters in her head. Her bickering sleuths–Zara and Lilly–are a hoot. After 50 years of it, they've got it down to a fine art. But when it comes down to it, they know who they can trust. And who might get them in even more trouble. Enjoy this interview–I sure did!
ABOUT THE BOOK
Our Lying Kin tells a human, haunting and rollicking story of the ravages of the pandemic and the power of family.

"Hello? I knew your father…better than you did."

Zara and Lilly are back, but their relationship has some cracks in it. Through the long pandemic isolation, Zara's gone from straight-laced to rigid, while Lilly, true to form, has indulged in some dubious — and not-particularly-legal — adventures. But they're still sisters, and sisters are special.

While Zara is visiting New York to help Lilly testify against the thief and murderer Walter Rosen, a surprise phone call rocks their view of their family: a woman claims a shocking relationship to their deceased father, and now to them. Zara and Lilly turn their considerable sleuthing talents toward unraveling a series of family mysteries.. (Get the book to find out the rest of the story!)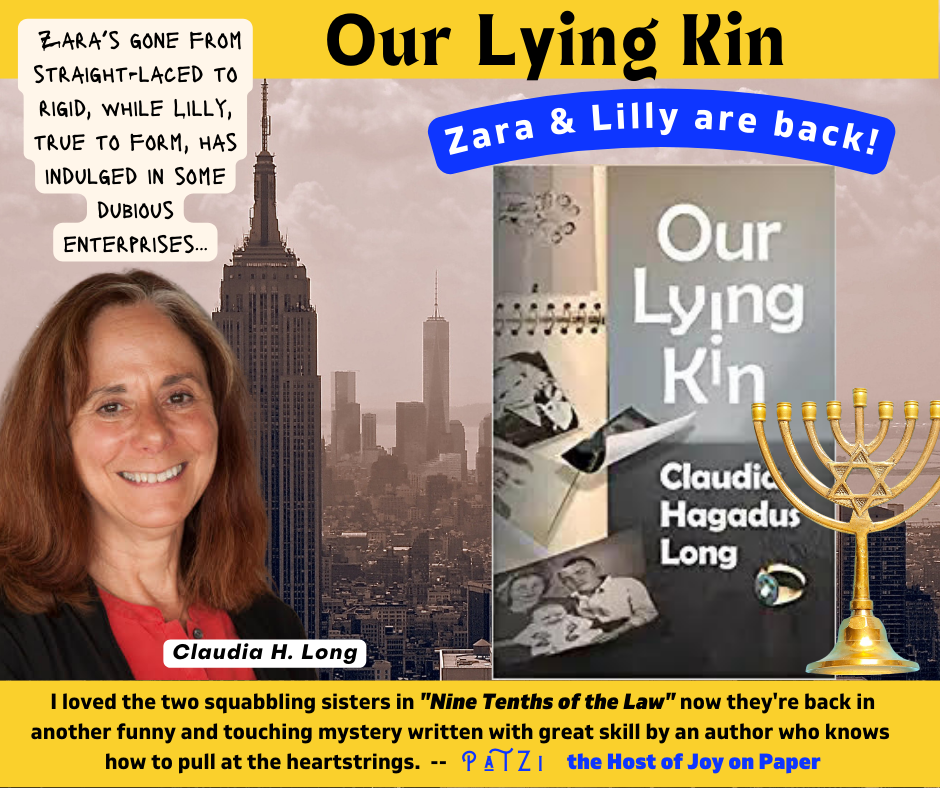 Listen to PatZi's Interview
with Claudia H. Long
Check out Claudia H. Long's website. Find out more about her books and sign up for her newsletter and read the lovely stories in her BLOG…
A few reviews for Our Lying Kin
Stuart Rojstaczer, author of The Mathematician's Shiva
In Our Lying Kin, sisters embark on a journey touncover the truth about their family's past and claim ownership of a coveted historial artifact. As they unravel clueas and obstacles in their path, they must also confront their own complicated relationship and learn to trust each other. Long understands the intricate dynamics of sibling love well.

Camille Minichino, author of The Periodic Table mystery series
When you've read the character sketches of the "Wandering Jews" on the opening pages of Claudia Long's "Our Lying Kin," you'll already be as satisfied as if you've finished a well-plotted novel. But there's more: the story unfolds amid snappy dialogue between two sisters on an up-and-down path toward mending their relationship while dealing with shadows from their past and tough decisions in the present. Whose New York house is it? Is this menorah fake or real? The twisty plot doesn't spare us Nazi thieves or the hardships of the pandemic of the 2020s.
"Our Lying Kin" is filled with details as light as coffee with cream and sugar, called "regular" on the east coast; and as heavy as the question of morality: is a rule-breaker more or less moral than a rule-follower?

John D. Lantos, author of The Lazarus Case and Do We Still Need Doctors?
Violence, sex, robbery, sibling rivalries, family secrets…this book ties them all together with a plot that picks up speed with each new twist.  In a great sequel to Nine Tenths of the Law, Long shows how difficult it is for children of Holocaust survivors to leave the past behind.