On Lonesome Road by Dan Flanigan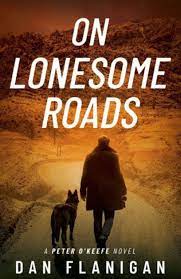 Clever dialog, great characters, and lots of twists and turns that make his book a great read.
Listen to PatZi's Interview
with Dan Flanigan
Don't hesitate, get this great book today…
When you purchase a book from this link,
the small fee we receive will go to the
"RISING STAR PRIZE"
for talented new authors!
Find out more about Dan Flanigan and his books…visit his website.
I enjoyed talking to Dan Flanigan about Book #3 in his Peter O'Keefe series: On Lonesome Roads. I like the concept of this series written by a lawyer who saw the corruption of the 1980's and uses his vast experience to bring readers an exciting thriller that has the atmosphere of a noir novel with hard biting action and pulp fiction vibe. 
If you like Lee Child's Jack Reacher and CJ Box's Joe Pickett, you will enjoy getting to know Peter O'Keefe. 
As a poet and playwriter, Flanigan (note that it is spelt with an "i") captures the nuances of human emotions in his dialog. 
More about the book:
As private detective Peter O'Keefe continues to heal from the burns he suffered from the blast of a car bomb, neither he nor the police can prove who his assailants were. The media speculates that "The Outfit", a Mafia group in the city, is to blame. O'Keefe isn't so sure, but he means to find out–and fast.
Terrified of another attack, O'Keefe's ex-wife, Annie, won't allow his 11-year-old daughter near him except under the tightest security, including an armed guard. He can't blame her. It isn't safe for Kelly, or anyone else he cares about, to be near him while his attacker is on the loose.
So begins an action packed thriller…Book #3 in an exciting new series.
Book #2, The Big Tilt was published in 2020. It has been described as a "gritty and eloquent crime novel" and "deft, hard-boiled, but literary prose that's reminiscent of Raymond Chandler's best work." The Big Tilt won the 2022 National Indie Excellence Award for Crime Fiction and the 2021 Readers' Favorite Bronze Medal in Fiction-Crime.
"The further exhilarating adventures of an unbeatable detective,
packed with tantalizing loose ends." KIRKUS