Our Man in Tokyo by Steve Kemper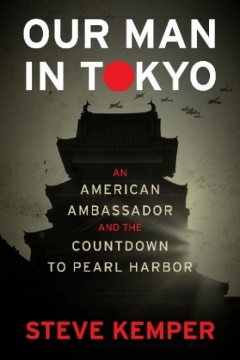 The American Ambassador and the Countdown to Pearl Harbor
Listen to PatZi's Interview
with Steve Kemper
Don't hesitate, get this great book today…
When you purchase a book from this link,
the small fee we receive will go to the
"RISING STAR PRIZE"
for talented new authors!
Our man in Tokyo by Steve Kemper received a well-deserved STARRED REVIEW from PUBLISHERS WEEKL.
I enjoyed talking to Steve about OUR MAN IN TOKYO, An American an the Countdown to Pearl Harbor. As a military buff–I have over 500 books about battles — it is always a thrill to discover a new viewpoint or a forgotten hero. So I was so happy to read this book about an unsung hero, Ambassador Joseph Grew, who was in the heart of the enemy when he served as the United States Ambassador to Japan from 1832 to 1841. Not much has been written about his attempts to raise the alarm and to get Washington to realize the true danger Imperial Japan posed to the United States and the world. With this book Steve Kemper sheds new light on the Ambassadors dedicated to trying to avoid a war. Much of his research includes the diaries that Ambassador Grew wrote during those turbulent years.  Steve Kemper is a brilliant historian and a talented writer. He brings those years to life and honors a true American hero. This is a great read and a perfect gift. Perhaps this time we will learn from history…
ABOUT THE BOOK
 A riveting, behind-the-scenes account of the personalities and contending forces in Tokyo during the volatile decade that led to World War II, as seen through the eyes of the American ambassador who attempted to stop the slide to war.
In 1932, Japan was in crisis. Naval officers had assassinated the prime minister and conspiracies flourished. The military had a stranglehold on the government. War with Russia loomed, and propaganda campaigns swept the country, urging schoolchildren to give money to procure planes and tanks. 
Into this maelstrom stepped Joseph C. Grew, America's most experienced and talented diplomat. When Grew was appointed ambassador to Japan, not only was the country in turmoil, its relationship with America was rapidly deteriorating. For the next decade, Grew attempted to warn American leaders about the risks of Japan's raging nationalism and rising militarism, while also trying to stabilize Tokyo's increasingly erratic and volatile foreign policy. From domestic terrorism by Japanese extremists to the global rise of Hitler and the fateful attack on Pearl Harbor, the events that unfolded during Grew's tenure proved to be pivotal for Japan, and for the world. His dispatches from the darkening heart of the Japanese empire would prove prescient—for his time, and for our own.  
"Gripping history, offering both drama and suspense."
—
Wall Street Journal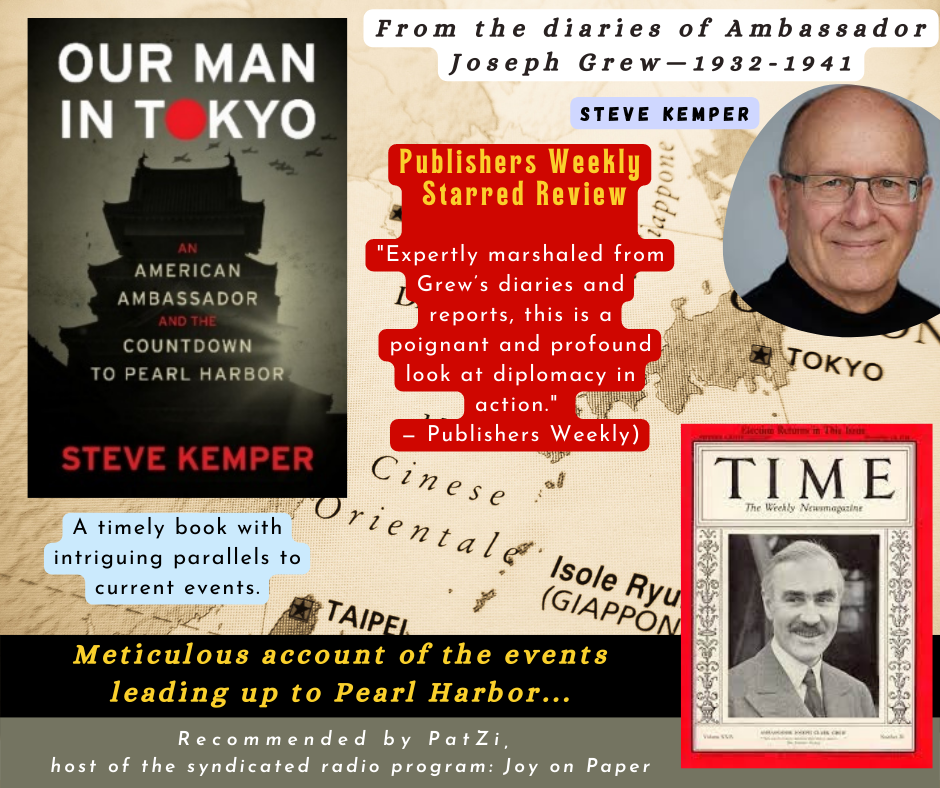 "An enthralling, meticulous account of the events leading up to Pearl Harbor. Ambassador Joseph Grew, my grandfather, dedicated ten years to searching for diplomatic solutions in Japan. Steve Kemper's book honors this extraordinary man, with intriguing parallels to current events at home and abroad. It moved me deeply."  ―Lilla Lyon, granddaughter of Ambassador Grew