Quick thinking makes for a great memoir!
Leslie Karst's Justice Served is so inspiring. First, on the spur of the moment when she heard her father, a lawyer, invited Justice Ruth Bader Ginsburg to speak at an event, she suggested her invite her for dinner. Then, what good fortune, RBG accepted! How exciting is that? Wow, it just proves that you should always take a chance because you never know what will happen. 
Of course, once the invitation was accepted the fun really began. Leslie had to come out with an ambitious menu and a game plan.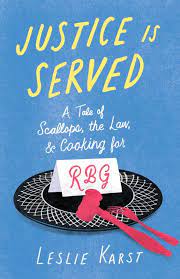 That's why this book is so much fun. From devising a menu, to thinking up subjects to talk about at dinner, the planning for such an important dinner is lots of fun. Leslie also includes segments that feature RBG's cases, her background, and important events in her life. 
This is a book you should not miss–and try out the recipes! I made the roasted squash soup. Delicious! 
High Praise for Justice is Served...
 "The book is a romp from cover to cover—and, just like a great meal, left me ready for more." 
—Karen Shimizu, Executive Editor, Food & Wine
"An entertaining, engrossing page-turner that documents months of planning and soul-searching . . . .  an extraordinary evening with the Ginsburgs and Karst's renewed resolve to find a vocation that she 'truly loved―as much as Ruth did the law'." 
―Foreword Reviews

"Home chefs and Ginsburg fans will find this culinary adventure exquisitely delectable."
―Kirkus Reviews
"Engaging, entertaining, and enlightening…. What starts as an offhand invitation becomes the most important dinner of Karst's life when it evolves into a journey of self-discovery―of searching for your purpose and your passion and pursuing it with your whole heart. A must read!"
―Jenn McKinlay, New York Times best-selling author of Wait For It   
"This engaging memoir… is a lighthearted yet earnest account of an event that changed the author's life."
―Library Journal
"Leslie Karst's celebration of women's progress wrapped up in the tale of one stupendous and life-changing dinner is . . . chef's kiss. Quietly patriotic, passionate, and oh-so readable, this book is a feast."
―Catriona McPherson, Anthony and Agatha Award-winning author of In Place of Fear
"Leslie Karst delights and tempts your appetite in this lovely memoir…. Justice Is Served is a dish you'll savor and enjoy."
―Edith Maxwell, (aka Maddie Day), Agatha Award-winning author of the Country Store and Cozy Capers Book Group Mysteries
Find out more about Leslie Karst on her website: her Sally Solari mysteries, her music, a video tribute by RGB, and more.