I always have so much fun talking to Hannah Mary McKinnon. She has a lovely accent—she was born in Switzerland, lived in the UK, and is now a Canadian—so it's just lovely to hear her voice. I could listen to her for hours. Especially about her new book; THE REVENGE LIST.
Hannah has such a diabolical mind and she always gets her characters into messy situations. In this case, Frankie Morgan, a construction site supervisor, is angry. Very angry. At lots of things.
It doesn't help when a client sends her over the edge and her father, also her boss, suggests that she attend an anger management group. But since she doesn't have much of a choice, she does so.
And from there, Hannah Mary McKinnon is off and running! Her description of the group meeting is spot on—not that I've ever been to one, but it does ring so true that I feel like I was in there with poor Frankie. Biting your tongue can be painful. And being around angry people can make you angry. All in all, our intrepid author takes her readers on heck of a journey. She tosses in some fascinating characters, a little paranoia, and a touch of a past Frankie has tried to forget or forgive, and we have an exciting psychological suspense.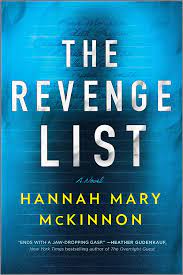 About the book:
The people in Frankie Morgan's life say she's angry. Emotionally stunted. Combative. But really, who can blame her? It's hard being nice when your clients are insufferable, your next-door neighbor is a miserable woman and the cowardly driver who killed your mother is still out living it up somewhere.
Somehow, though, she finds herself at her very first anger-management group session—drinking terrible coffee and learning all about how "forgiveness is a process."
One that starts with a list.
Frankie is skeptical. A list of everyone who's wronged her in some way over the years? More paper, please. Still, she makes the pointless list—with her own name in a prominent spot—and promptly forgets about it…until it goes missing. And then her life starts to fall apart. Bit by bit until things spin out of control. Literally.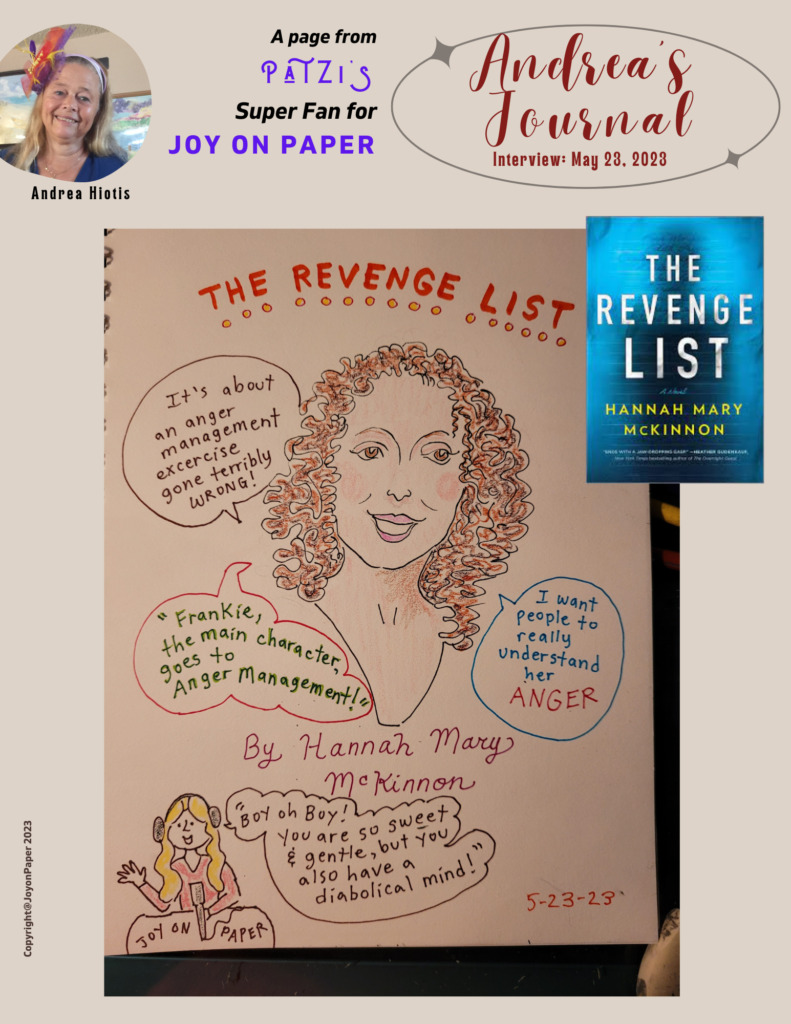 Praise for the Revenge List...
"The Revenge List checks all the boxes of what a thriller should be. Brilliant premise? Check. Mounting tension? Check. Jaw-dropping twist? Double-check. I couldn't put it down!" — Riley Sager, New York Times bestselling author of The House Across the Lake
"A thrilling page-turner with a protagonist you can't help but root for—even when she makes you mad." — Cate Holahan, USA TODAY bestselling author of The Darkness of Others

"Taut, furiously paced, and immensely entertaining." —Jennifer Hillier, internationally bestselling author of Things We Do in the Dark
"Twisty, turny, and featuring a vibrant cast of characters I questioned at every step, this fantastic thriller packs an emotional gut-punch and an ending that will terrify you." —Samantha M. Bailey, internationally bestselling author of Watch Out for Her

"You will love spending time with Frankie Morgan even if—trust me—you do not want to be on her revenge list." —Barbara Nickless, Wall Street Journal bestselling author of Dark of Night
"Well worth the sleepless night. With The Revenge List, Hannah Mary McKinnon once again proves herself to be a master of the suspense genre." —Kellye Garrett, Agatha, Anthony, and Lefty Award-winning author of Like a Sister