It is always a JOY for me to talk to Robert McCaw about his Koa Kane series. I love the latest—RETRIBUTION—which is Book #5.
Once again we find ourselves immersed in a Hawai'i that is unlike anything we read about in other books. For me, who never cared about visiting the islands, I have discovered a remarkable land that intrigues me. Bob obviously loves the people and the culture of Hawai'i and it shines through in his books.
Retribution finds his main character, Chief Detective Koa Kane, caught up on a series of murders that all seem to point in one direction–at Koa Kane himself. With his complicated past where he covered up his own crimes, the Chief Detective must travel a twisted path to discover who is framing his brother for murder.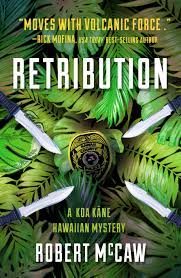 I enjoy the diverse range of characters in this series. It reflects the melting pot that is the hallmark of Hawai'i. And Bob's deep respect for the people includes incorporating their language into the book so seamlessly. I've learned so much from reading this great series.
I predict we will one day see it on be on streaming video. I would love to be at the casting call for Koa Kane and all the other characters readers have grown to love and appreciate.
In June 2023 Book 1, Death of a Messenger, is available free on Kindle. CLICK HERE!
Praise for Koa Kane series...
"McCaw ably blends police procedural, espionage thriller, and guilt-ridden personal saga. Readers will look forward to Koa's further adventures." —Publishers Weekly
"In Off the Grid, Robert McCaw has fashioned the year's most original mystery-thriller set, appropriately enough, in the equally original setting of Hawai'I . . . a relentlessly riveting tale that races out of the gate and never lets up for a single minute or page." —Jon Land, USA Today best-selling author
* "Readers who crave watching a smart cop work in a crackerjack police procedural will find a beauty here. Want a good espionage adventure? It's here, too, with intrigue, betrayal, assassination." —Booklist (Starred Review)
"Robert McCaw brings you Hawaii in the way that C. J. Box delivers Montana. Fast-paced and engaging, Retribution is everything you want in a thriller. Another great addition to a compelling new series!" —Ward Larsen, USA Today best-selling author of Deep Fake
". . . interesting local details and a crackling pace." —Kirkus Reviews
"Off the Grid is flush with action and vivid descriptions. This unputdownable book is sure to make a mark in the literary world." —New York Journal of Books
"Readers who love a complex hard-boiled detective with flaws and secrets, and depictions of Hawaii's culture and beauty, will be drawn to Koa Kane and the mosaic richness of an American paradise." —BookTrib
"With one deftly crafted cliffhanger of a plot twist after another, Death of a Messenger by mystery novelist Robert McCaw is an inherently riveting read from cover to cover." —Midwest Book Review