THE ART OF CHILLING OUT FOR WOMAN: 100+ Ways to Replace Worry and Stress with Spiritual healing, Self-care, and Self-Love
Wow! This is a cool book–just what I needed. The Art of Chilling Out by Angela D. Coleman is a book that every woman needs. Life has been so stressful these past few years that it is about time we sit back and read this book and discover how we can finally get a handle on our lives.
Angela is an amazing woman.  Her accomplishments are so impressive that I was in awe of her. Not many people have graduated cum laude from Princeton University with an AB degree in psychology and African American studies; gone on to study clinical psychology at Howard University; earned a degree in  nonprofit management from Duke University, and then receive an MBA from the University of Phoenix.  She holds certifications in trauma, psychological first aid, suicide prevention, and African holistic health. On top of all of that Angela has written twenty books and founded a global nonprofit, Sisterhood Agenda.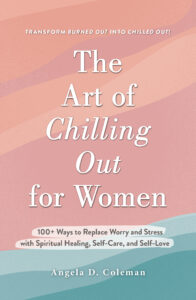 With her vast experience, Angela had developed a real prescription to help women find the proper balance in their lives.
About the book:
Banish burnout, worry, and stress once and for all with these practical tips and strategies for relaxing, going beyond simple self-care to chill your mind, body, and soul.
The Art of Chilling Out for Women teaches women the value of chilling out. Here women can learn to seek self-awareness, self-love, happiness, peace, and health. With this essential resource, women will eliminate burnout, stress, and excessive personal sacrifice with practical tips and holistic wellness, like creating cleansing spaces and sacred spots, releasing childhood trauma, establishing boundaries, increasing compassion and self-love, eliminating doubt, regulating with herbs, and listening to your physical self, and much more.
Visit Angela's website to discover her many books and about her work to help women find their