From the first page I was hooked!
By the Rivers of Babylon by Mary Glickman is brilliantly plotted and captures the essence of the South.
So it was a JOY to talk to her about her love for her adopted home in South Carolina and how it has become so much a part of her personality. 
The book opens with the two main characters, Joe and Abigail Becker stuck on the drawbridge that leads to an island off the shores of South Carolina. They're from Boston and are about to start a new phase in their lives. For a moment I wanted to yell out to them to turn around. To tell them that they were Jews from Boston and would never fit in on an island where the people are insular and have their own ways. Their banjo music. Their food. Their own problems.
But that would have been no fun–and Mary Glickman wants her readers to immerse themselves in the South. To feel the rhythm of the South. To hear the soft lilt in the voices. The way they can take words and make them sound fresh. Where the summer heat leads to passions that are hard to control. It is a journey and the reader won't be disappointed.
By the Rivers of Babylon is filled with twists and turns worthy of the best mystery writers–and with beautiful writing worthy of Faulkner. Mary Glickman captures the spirit of the South with characters who are complex and so real that you will never forget them.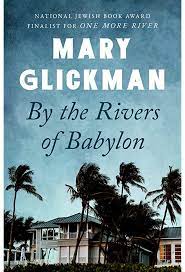 For me, a very visual person, I saw it as a film in my head. So I'm looking forward to one day seeing this book made into a feature film. The author and I agree that we can't think of an actress beautiful enough to play Abigail. But it will be fun when Hollywood options this book and starts searching.
Mary is represented by Peter Riva, 
"Mary Glickman gives us a nuanced image of our twentieth-century selves, our society woven into stunning art." —Carolivia Herron, author of Nappy Hair and Thereafter Johnnie
"Religion isn't the only thing that stirs Glickman to fervor: she writes in a high-drama, no-holds-barred style when it comes to romance . . . [An] entertaining novel about sins of the flesh and the redemptive power of belief." —Publishers Weekly on Marching to Zion