2023 Literary Titan Book Awards Gold Winner
I was so happy to talk to Rebecca D'Harlingue about her new release: THE MAP COLORIST. Her elegant prose transports readers to Amsterdam in the the 1660's when the Dutch were famous for their trade around the world and for their map making. 
It's a  thoughtful peek at the history of map making and the de Brug family. The mother, Lysbeth, is a map colorist and her husband is an artist Their daughter, Anneke, follows in her mother's footsteps and becomes a sought after map colorist. But she wants more. She want to draw a map of her father's travels to Africa. But the job of a cartographer was not done by women. When her brother, Lucas, is sent to school to study how to draw maps, the talented young woman uses his books to teach herself. 
Will she succeed? She is working in the famous House of Blaeu, the creators of the Atlas Maior–the largest book at the time with over nine hundred maps. Anneke had to be careful as she worked in secret on her map.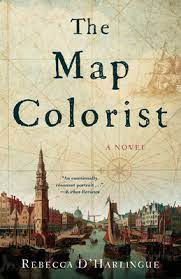 This entrancing novel resonates on so many levels. As a coming-of-age story it portrays the struggles and dynamics within a family It also has unexpected twists and turns as secrets long hidden are revealed and a family must face difficult truths.
About the book:
In 1660, Amsterdam is the trading and map-printing capital of the world. Anneke van Brug is one of the colorists paid to enhance black-and-white maps for a growing number of collectors. Her artistic talent brings her to the attention of the Blaeu printing house, and she begins to color for a rich merchant, Willem de Groot. But Anneke is not content to simply embellish the work of others; she longs to create maps of her own. Cartography, however, is the domain of men—so it is in secret that she borrows the notes her father made on a trip to Africa in 1642 and sets about designing a new map.
Anneke hopes to convince the charismatic de Groot to use his influence to persuade Blaeu to include her map in the Atlas Maior, which will be the largest and most expensive publication of the century. But family secrets, infidelity, and murder endanger her dream. Will her map withstand these threats, or will it be forever lost?
Buy The Map Colorist today...