Assassin's Lullaby by Mark Rubinstein
In every life, there lurks catastrophe…for a former Mossad agent, it is expected — especially since he has a contract killer.
Listen to PatZi's Interview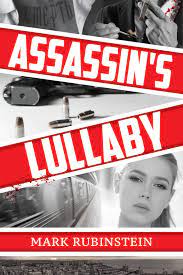 When you purchase a book from this link,
the small fee we receive will go to the
"RISING STAR PRIZE"
for talented new authors!
Visit Mark's website…he has a great blog….
It was so much fun to talk to Mark Rubinstein about his new book, Assassin's Lullaby, that I have invited him to come back to Joy on Paper soon. We will  chat more about this book and his insights into the writing process. 
This thriller is just what you need to get your mind off the news. 
Part of the JOY of reading this book is the reveal — and the excitement of finding new twists and turns as Eli Dagan has to use all the skills he learned as an assassin for the Mossad if he wants to make it to his 40th birthday. Sucked into doing a job for the Russian Mafia, he has to make some decisions –is it time to overcome is tragic past and start a new life? Mark Rubinstein's joy of writing makes for a great read.
When Dr. Mark Rubinstein returns to Joy on Paper we will discuss the psychology o f conflict — he's an expert on the subject. I'm looking forward to it.